CATL 21C Innovation Lab Layout Next Generation Battery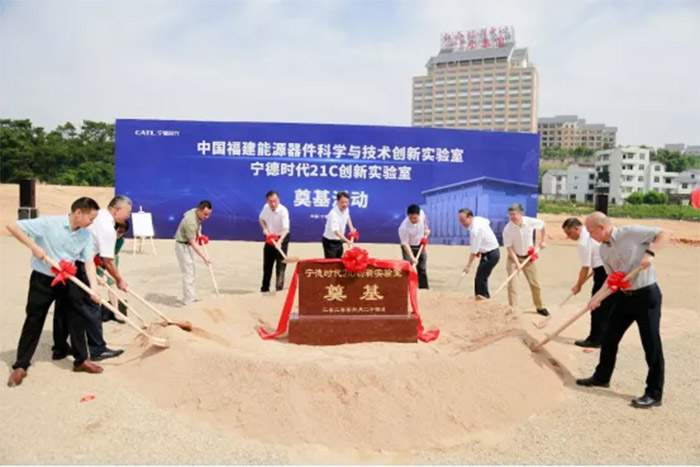 On June 24, 2020, CATL's 21C Innovation Lab officially laid the foundation stone in Ningde, Fujian, which means that the cutting-edge scientific and technological exploration in the field of new energy in the CATL has entered a new stage.
According to CATL, the 21C Innovation Lab will be a benchmark for a world-class laboratory with a total investment of 3.3 billion yuan and a construction period of 5 years (2019-2023). It is expected that the completed part will be put into use by the end of 2021.
The laboratory lays out three main directions of new energy storage materials chemical system, new energy storage system design and engineering, new energy storage system application scenarios, as well as four major materials and devices, advanced methods and equipment, industrial construction system, energy policy think tank Support the direction and form a full-chain research model of "frontier basic research-applied basic research-industrial technology research-industrial transformation" to solve a series of "jam neck" technical problems.
The laboratory's medium and short-term research direction focuses on the development of next-generation batteries such as lithium metal batteries, all-solid-state batteries, and sodium-lithium ion batteries. At the same time, lithium ion battery reliability model development, non-destructive battery testing technology development and other technical developments that are closely related to commercial applications will be widely deployed, and strive to realize the industrialization of laboratory independent innovation results within 3-5 years to help the industry's high-quality development.
Zeng Yuqun, chairman of CATL and director of 21C Innovation Lab, said at the groundbreaking ceremony that science and technology enterprises are innovating first, and 21C Innovation Lab upholds the innovation concept of CATL "practice basic skills and exert imagination". Innovative forces are rushing out, striving to leave a strong stroke in the history of technological reform. We will live up to the times, live up to expectations, and bear fruit early.
It is worth mentioning that the 2019 Nobel Prize winner John B. Goodenough also sent a congratulatory letter for the foundation of the 21C Innovation Lab.
Goodenough said in his letter that as a pioneer of lithium-ion battery technology, the research and development achievements of 21C Innovation Lab will greatly benefit society. He firmly believes that future CATL innovations in lithium batteries will reduce people's dependence on fossil fuels worldwide.
At present, energy tensions have become a bottleneck restricting global economic and social development. As the key technology for the development and utilization of renewable energy, advanced electrochemical energy storage technology has become the commanding height of countries all over the world competing to study and seize.
The laboratory is named after 21C, which implies that the 21st century is a century where new energy benefits mankind, and a century that truly achieves sustainable development. The CATL will make unremitting efforts for it.