The huge market of lithium battery pack for power tools
In the short term, affected by the COVID-19, the global power tool market will be affected by a certain market. But in the long run, after the end of the COVID-19, the global economy will recover and the power tool market will continue to maintain long-term stable growth. The wireless trend will also provide a broad market space for lithium-ion battery pack for power tools.
According to industry data, the global power tool market will be worth USD 31.8 billion in 2019. Calculated at a compound annual growth rate of 5.5%, the global power tool market will reach USD 41.7 billion by 2024.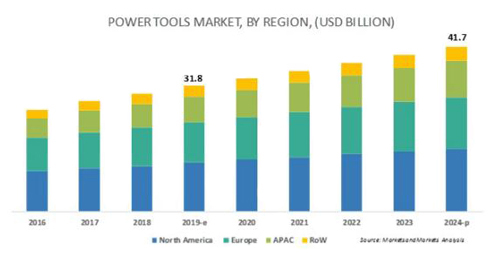 Among them, the penetration rate of cordless power tools has exceeded 50%. The cost of lithium battery pack accounts for about 20% -30%. According to this rough calculation, by 2024, the global lithium battery market will reach at least USD 4.17 billion to USD 6.23 billion.
From a data perspective, Europe and theUnited Statesare the fastest growing power tool markets in recent years. Next, during the forecast period, the power tool market in the Asia-Pacific region will grow at the fastest CAGR.
As one of the leading power tool companies, TTI has achieved revenue growth for ten consecutive years. To a certain extent, its performance also reflects the market demand trend of power tools: huge scale and stable growth. It is worth mentioning that TTI cordless power tools also have the highest demand for lithium battery pack.
Only lithium battery companies with leading technology, strong R & D strength, excellent product quality and guaranteed supply capacity have the opportunity to enter the supply system of large international power tool manufacturers. Once the supply relationship is determined, it will not be easily changed in the short term, and lithium battery companies entering the supply chain will maintain a stable market share for a period of time.
In short, as a battery pack assembly plant, it is particularly important to choose a professional supplier of manufacturing machine. As a high-tech company specializing in R & D and production of lithium battery pack assembly production machines, Xiamen WinAck has accumulated a lot of engineering data and experience, which is very suitable for lithium battery pack assembly production and has high application value.